Accelerator by Eastside Co: Enquire now to accelerate and grow your brand using a programme backed by experts.

Launch your Shopify 2.0 store in under four weeks
Backed by years of ecommerce experience, The Accelerator Programme is designed to help start-ups and scale-up businesses accelerate their ecommerce growth with a new Shopify store and strategic support, launched in under 4 weeks.

The Accelerator Programme enables smaller, ambitious brands to accelerate their ecommerce progress quickly and in a cost-effective way. Our in-house teams of design and development experts create and launch a sector-specific online store for clients in under four weeks.

Following Eastside Co's successful launch of the ecommerce store for PZ Cussons Carex Handwash in less than 4 weeks during the pandemic, Accelerator has been developed to help other businesses level up their online offering at pace.

We've designed a series of themes with particular industries in mind, based on our experience in what works well in different sectors.

Our Solar theme is designed to best suit FMCG businesses, while Aurora is a superb fit for beauty stores and Nova is tailored for fashion brands.

When your new store goes live, we can also support you post-launch. Our team of marketing and strategy experts help grow audiences and drive visitors to the site for increased traffic and sales.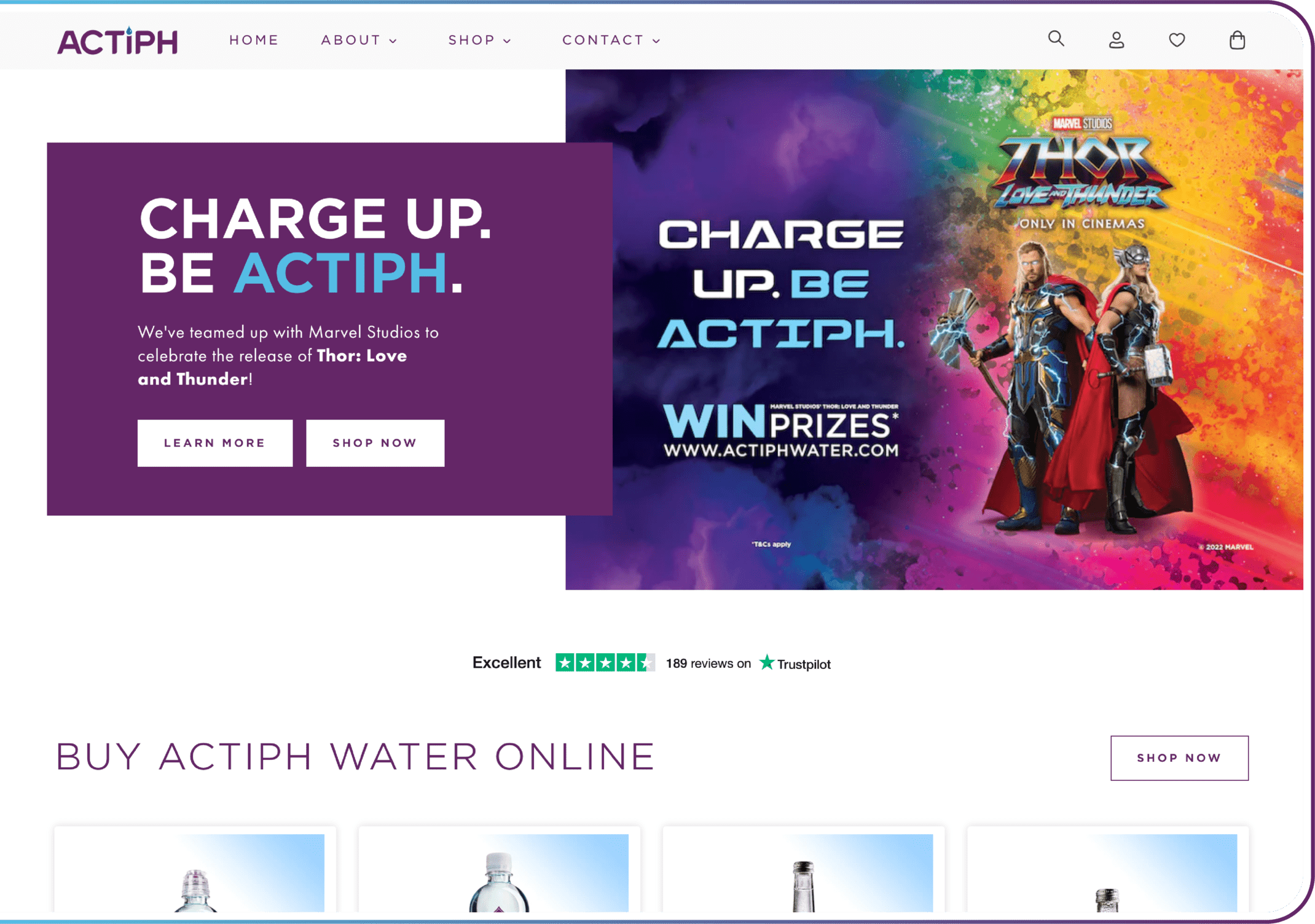 Actiph
Actiph is Europe's leading provider of alkaline ionised water, with a compelling origin story about how the idea for the brand came about.

They needed a new ecommerce presence to help tell that story and better position their products to further grow their audience - an Accelerator Programme Shopify 2.0 website ticked all the boxes.

We designed and launched a clean, fast and slick-looking site quickly which helped them take their ecommerce to the next level.

We built a subscription option via Recharge Payments, to enable customers to save money, and the business to better forecast and grow recurring revenue.

The site also incorporates Trustpilot to help build consumer trust through reviews.
Potion London
Potion London is a luxury wellness brand dedicated to making its customers' lives healthier, easier and more beautiful.
Using our Aurora theme, designed specifically for beauty and cosmetics brands, we designed and built a Shopify 2.0 store to elevate the brand while making the customer journey easier and more beautiful.
The end result is a clean, functional and fast site that makes it easy for customers to purchase. A detailed product page features high quality product imagery, an ingredients list and product guide, while also allowing customers to sign up for a subscription to save 20%.
For social proof it also includes a reviews portal from Yotpo and direct link to the brand's Instagram feed.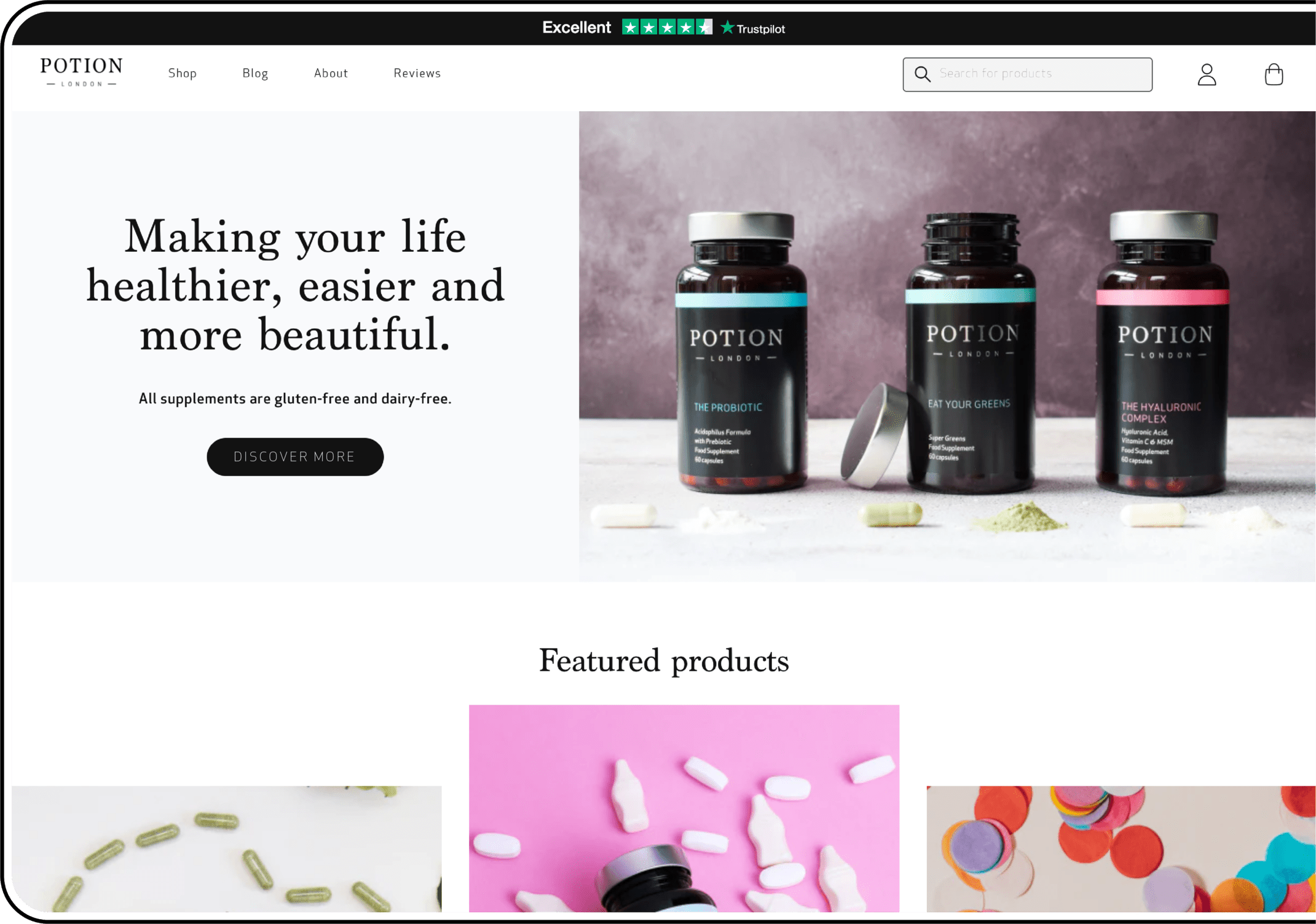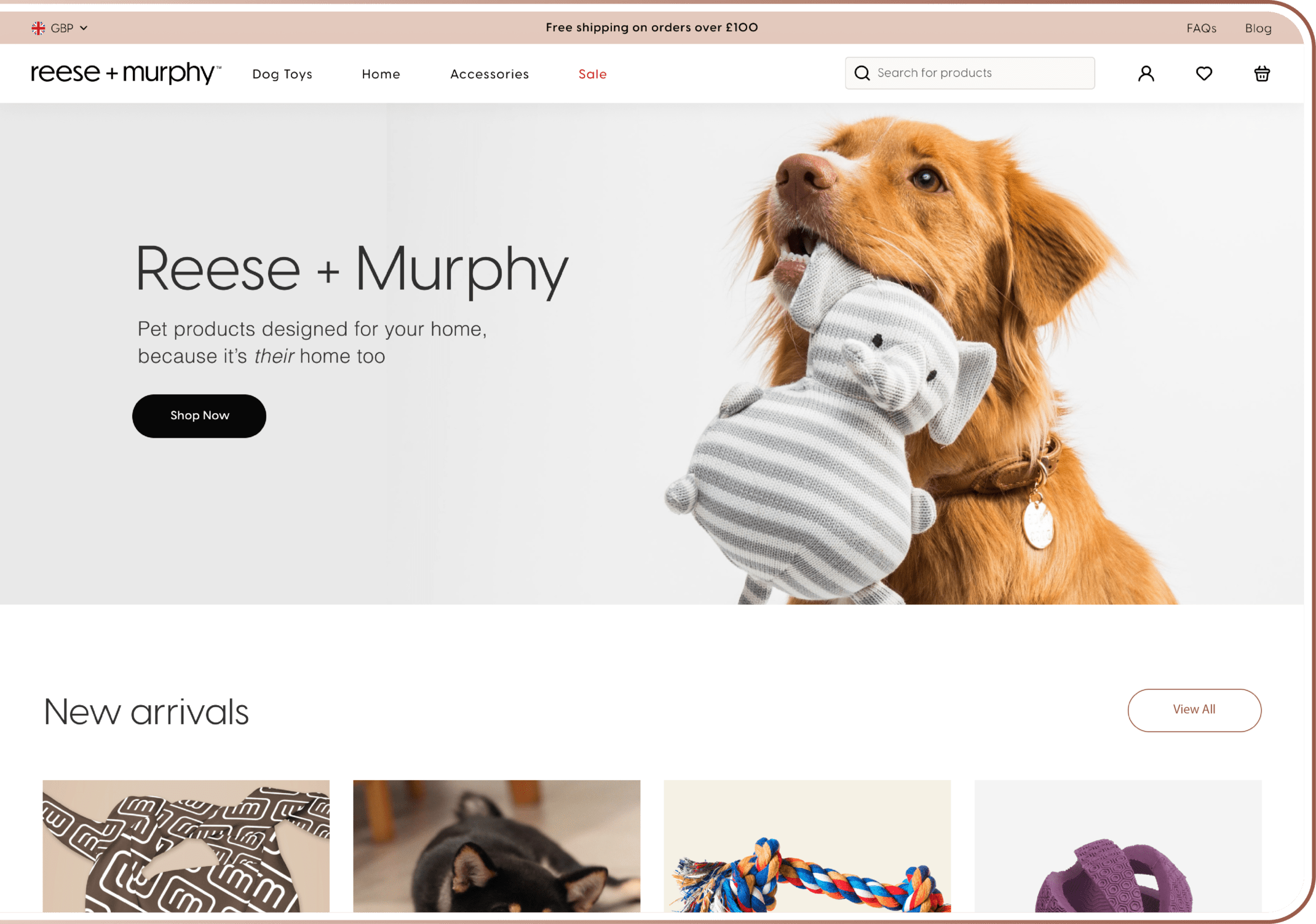 Reese & Murphy
Coming Soon
Reese and Murphy is a new pet toy and apparel business with no existing presence in the ecommerce marketplace. We were starting from scratch - an exciting challenge.
We wanted to launch this brand new business into the ecommerce world with a beautiful and effective new online shop which perfectly portrayed the brand, while being user friendly and easy to navigate through the sales journey.
Launching the brand via our Accelerator Programme was the perfect fit - the quick-to-market service is designed to help smaller and growing businesses accelerate quickly, thanks to a sector-specific Shopify store, backed by the expertise of our ecommerce team.
How Accelerator can help grow your business
A lightning-fast route to market for newer companies working to a budget.
A fresh, fast site that reflects an established business' brand, helping sell more while setting a foundation for rapid growth.
Backed by the combined experience and knowledge of our team of design, development and marketing experts.
Accelerator sites are designed to integrate with key tech partners including Recharge, Klaviyo and Yotpo to improve functionality and help you grow your customer base.
More than a website
As well as a brand new Shopify store built on Shopify OS 2.0, the Accelerator Programme can be backed by an accompanying suite of services. This includes marketing and strategic support to help businesses increase market share, grow sales and boost customer numbers in the critical post-store launch period. We offer email marketing, GoogleAds, paid and organic social, and SEO strategy support.

"The Accelerator Programme is an exciting addition to our range of services which lets us help clients start selling online quickly, in a cost-effective way. It's a great way to support fledgling brands or ecom businesses looking to enhance and rapidly grow their online presence.

During the pandemic we launched the ecommerce store for Carex in 4 weeks to enable them to sell online and deliver essential hand gel to the nation - and now we want to help more brands scale their ecommerce offering quickly and effectively using Accelerator."

Jason Stokes, CEO, Eastside Co
Three designs created to suit your industry needs.
Our team of expert designers have created three fantastic Shopify themes which can be branded to suit your individual needs.
Created with specific industries in mind, they have been specially curated to enhance and grow your business, backed by the power of Shopify 2.0.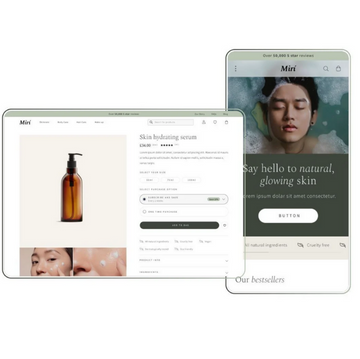 Introducing the Accelerator Programme
Learn more about the Accelerator Programme over on our blog, it's packed with lots more information on what Accelerator is and how it can help you!
READ MORE
Looking for something else?
Head to our general contact page to speak with one of our business team.
CONTACT US